First of all, I'm a gamer. My favourite games are Doom, The Elderscrolls V: Skyrim, Minecraft, The Sims, Borderlands, and Super Smash Bros.
I also have a borderline psychotic obsession with cats.
Eminem put's the Ǝ in Ǝpic. 'Nuff said.
I work with GIMP a lot because Photoshop is like SOO overrated. (I'm not paying $600 for it)
My life long dream is to become a ninja-rapper-cartoonist-Neko-assassin. Because I have problems.
a few years later "Holy shit that is the cringiest shit I have ever written where's the edit button WHERE'S THE FUCKING EDIT BUTTON?!"

Also, I'm not going to be able to personally thank everyone for faving my art, so if you've faved it, thank you very much.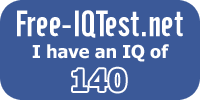 Free IQ Test
The internet said so, so it must be accurate.




Current Residence: Well I hardly think that's any of your business.
Favourite genre of music: Rap
Favourite style of art: cartooning
Operating System: Windows h8
MP3 player of choice: MP3
Shell of choice: The Red Shell
Wallpaper of choice: Recovery album cover
Skin of choice: KFC
Favourite cartoon character: L
Personal Quote: "Hella Fab."